Do you want to know how to start an online magazine and make it your income source?
Having an electronic device means you have the world in your hand. This is the reason digital magazines have become more popular than print media in recent years. Since most people now spend their time on the internet, it is very convenient for them to read magazines online. Business owners, bloggers, retailers- all are using this news media to promote their brands through useful content or advertisement.
However, the use of digital magazines is not limited to sharing information. You can use it to reach your target audience as well as a great way to improve brand awareness. Besides, you can sell subscriptions to your digital readers or charge people to submit articles to your magazine.
In this article, we'll take you through a step-by-step guide to creating your own digital magazine along with all the essential details. So, make sure to read this guide till the end.
Why Online Magazine is Ruling Over The Industry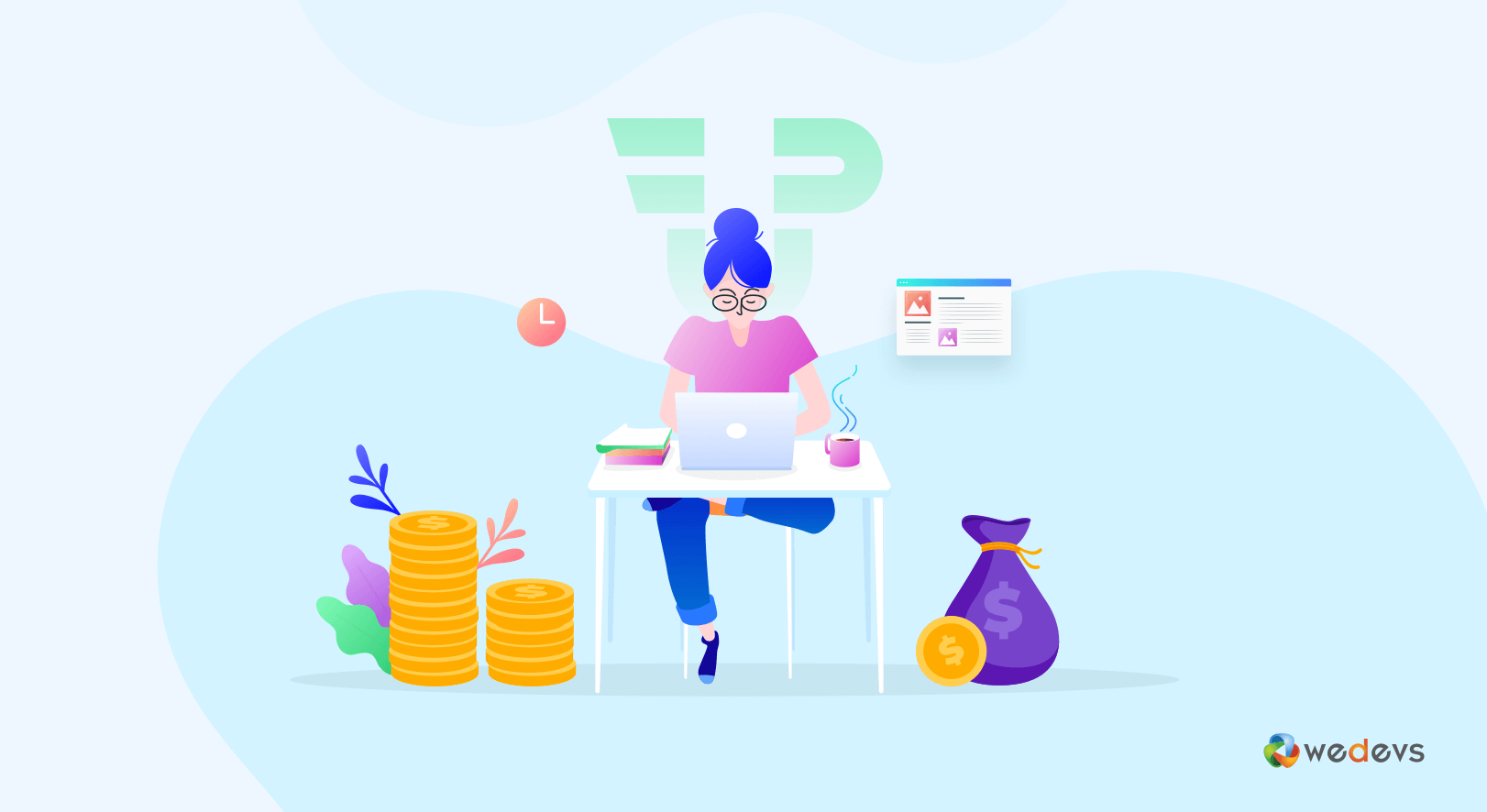 Due to technological advancement and easy access, people are largely shifted to the internet for even their daily needs. When everything is available at your fingers tips, who would want to make extra efforts to buy a newspaper and turn over the pages. This is why digital magazines have become more popular than printed magazines nowadays.
In the early 90s when digital magazines first came into the web, they were simply the digital version of printed media. With time the purpose and strategy of online magazines have changed a lot.
Now most of them are launching as digital versions without any prior printed copy. In fact, many of them have no printed publications at all. These are not like social media ads or landing pages for a brand. Marketers put their best efforts to make these digital copies as engaging as possible for the audience.
The strategical value of a digital magazine is very high as it's not working as a selling asset like a brochure. Rather it's used to communicate, enlighten or entertain. Plus, people would love to read feature content that isn't promotional.
Besides educating your readers about a particular niche, you can use your magazine website for earning money. Two effective ways could be-
Charge a subscription fee for downloading the magazine
Charge for premium access to restricted content
If you want to start a magazine publication, it is wise to go with the digital version. People now rarely buy a print version. Also, the capital cost of print publication is so high that will hinder your high-flying ambitions before takeoff.
On the other hand, WordPress lets you build an online magazine website within a limited budget and effort.
You can also check: Building an Alumni Website with WordPress & Charging with Stripe for Subscription!
How to Start an Online Magazine with WordPress (Step-by-Step)
Now, let's show you the step-by-step process to create an online magazine in WordPress. Plus, we will show you how to manage content and readers on your website with ease.
Let's assume you've already configured your hosting and a new WordPress site. Now activate all required plugins. Here, we've already installed and activated the following plugins. Use the following links to download the plugins-
As you're planning to sell subscriptions for your online magazine it's important to ensure secured transactions for your users.
Below are the steps you need to follow-
Step 1: Choose a WordPress Magazine Theme
WordPress supports a large theme library having a vast arena of diverse features and functionalities. You'll get plenty of options based on different industries and niche categories. Now you need to pick a responsive WordPress magazine theme that will be fully compatible with your online magazine website.
For this tutorial, we'll go with ColorMag. ColorMag is a stylish free WordPress theme. By activating ColorMag on your WordPress site, you get access to a collection of magazine themes from different industries.
From your WordPress dashboard, go to Appearance→ Themes→ Add new. Here, you'll see a search box on the right side. Search for ColorMag and install the theme on your website. Once you activated the ColorMag theme, a dialogue box will appear on your screen with a welcome message.
Click on the 'Get Started with ColorMag' button to automatically install the ThemeGrill Demo Importer WordPress plugin. It will take you to the Demo Importer page where you can see different magazine-style demo options for your website.
Select a theme from there and see the preview. If it fits your dream then click on the 'Import' option. Immediately, you'll get a dialogue box with a 'Confirm' option. So, press on the option and import the demo.
We've selected the theme "Online News Magazine" to create our online magazine website. You can choose as per your requirements.
The base of your website is ready to go. Now, you can customize it according to your requirements. Although you can also build your online magazine website from scratch. But that would be tedious and tiresome.
Step 2: Create a Content Strategy for Your Online Magazine
The outlook of your magazine will attract your audience at first sight but it's your content that hooks them for a long time.
Fortunately, WordPress gives you an interactive editor to write and manage your post including layout and formats:
Now you need to take a crucial decision whether you want to keep your whole magazine public or restrict some content for premium members. As we've mentioned above, in order to monetize the magazine website you can-
Set a subscription fee: Create customized subscription packs and charge your readers for getting access to your website.
Charge for premium content: Hide some of your exclusive content behind a paywall and sell the membership for further access.
You can do all these customizations with ease using WP User Frontend Pro.
After deciding on the format, follow below steps to generate an effective content strategy for your magazine-
Define Your Objectives
Conduct Audience Research
Run a Competitor Analysis
Come Up with Trendy Topic Ideas
Create Pillar Contents
Use Keyword Research Tool
Create a Content Calendar
Read in Details: How to Research Blog Topics for Your Website.
Step 3: Configure WP User Frontend Pro in Your WordPress Website
When you activate WP User Frontend on your website you'll get a wizard for "Basic Setting".
Now, check the options- "Enable Payments" & "Install WPUF Pages" and click on the 'Continue' button.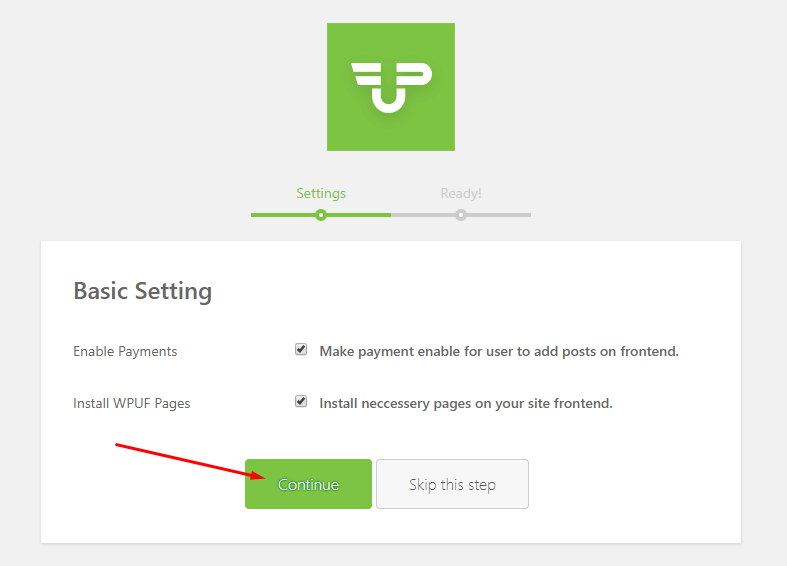 For any further assistance, check the official documentation or comment below.
Below are the steps to make your online magazine workable according to your plan-
1. Activate Stripe Payment Module to Make Money with Guest Posts
In order to activate the Stripe Payment module, navigate to WP dashboard→User Frontend → Modules. Then, turn on the toggle button of Stripe Payment to activate this module.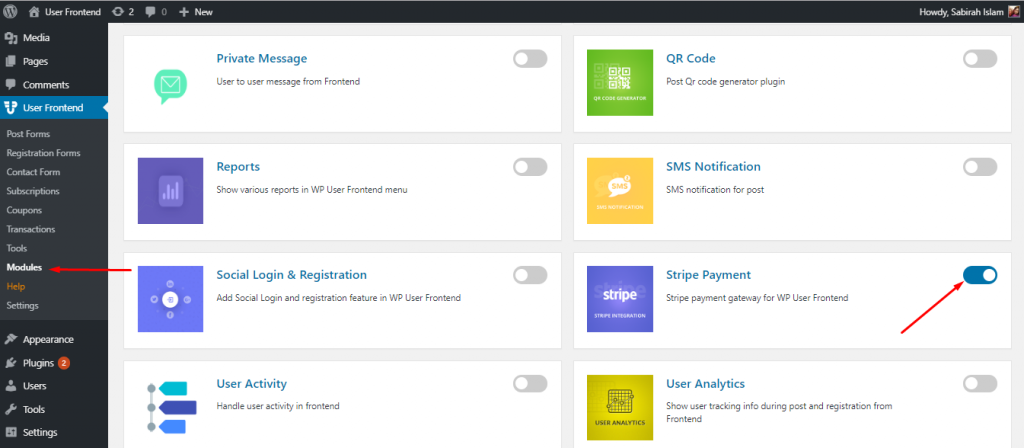 This module enables you to let your users buy subscription packs using Stripe.
Note: Stripe payment is a premium module of WP User Frontend Pro.
2. Create a Form for Guest Post Submission in Your Magazine
In this part, you need to design and publish a sample post form. So, guest writers can easily submit their articles on your site. First, go to WP Admin Dashboard→ WPUF → Post Forms. After that, select the Sample Form to edit. Or, you can click the Add Form button to create a post form from scratch.

Getting into the editor, you'll find many customization options with a drag and drop editor. Therefore, it would be super easy to modify your form as per your needs. Once you are done, hit the Save Form button.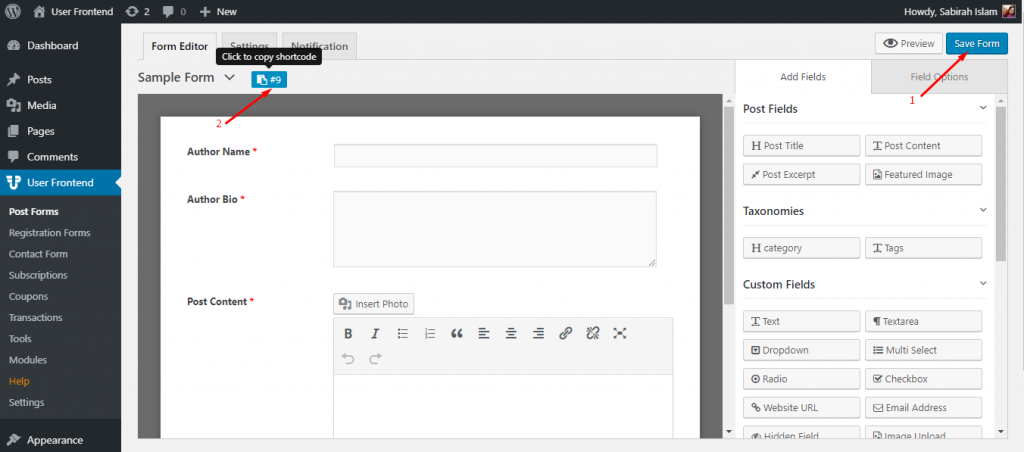 Then, copy the shortcode of the newly created post form from the top of the editor.
For further configuration, Go to WP Admin Dashboard → WPUF → Post Forms → Settings → Submission Restriction. It lets you set the rules a writer needs to follow during submitting a post.
3. Configure Payment Options to Charge Your Users
From the Settings tab, check the Payment Option to enable payment for the form we have just designed.

Next, check the option "Force subscription pack" or "Enable Pay Per Post" based on your payment criteria.
Here you also get the option to set the amount that you want to charge for each post on your site.
4. Publish Your Guest Post Form
Now, create a new page and paste the shortcode you've copied from the Sample Form above.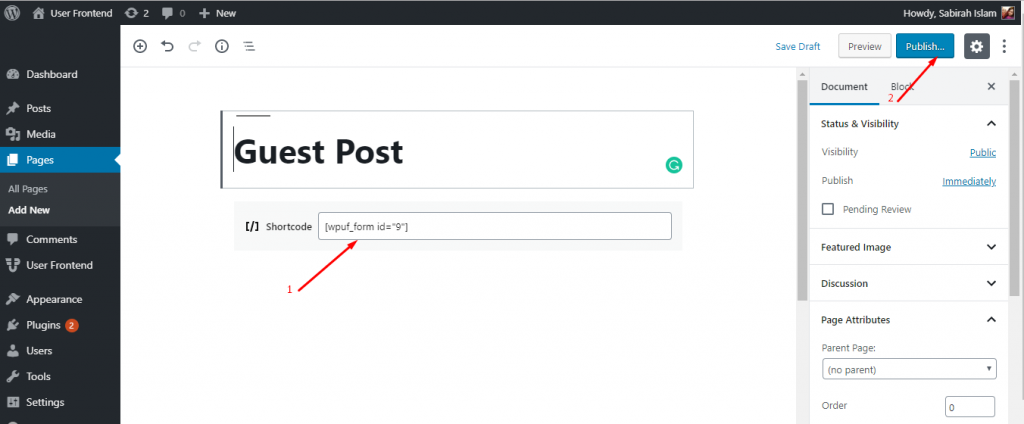 Finally, hit the "Publish" button to make it live.
Now, when a guest user comes to submit a post on your online magazine, he or she will find a post form like the below image-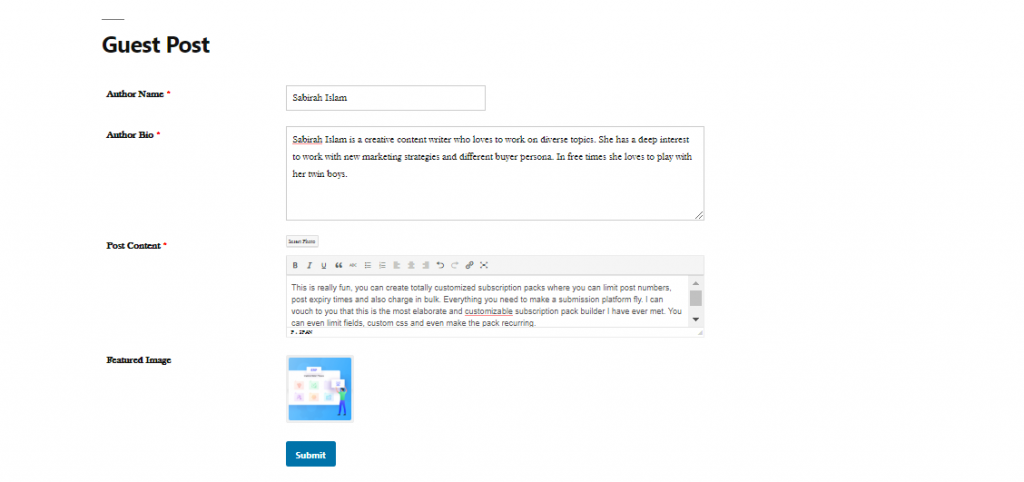 After filling all the required fields, soon the user will hit the Submit button a payment wizard will appear-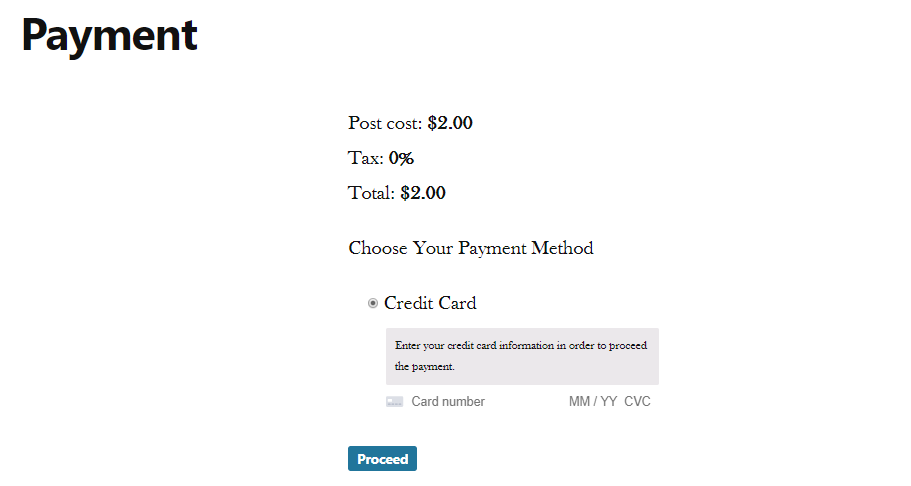 The user needs to follow the procedure and make the payment to submit content on your magazine. And this way you can earn money from your online magazine.
Read The Full Process: Make Money With Guest Posts From Your WordPress Site.
Now, if you want to impose Partial Content Restriction on your online magazine content, go through the below steps-
5. Select an Exciting Post or Create a New Post
First of all, you need to choose existing content from, WP Admin→ Posts→ All Posts. Or create a new post if you are just starting out.
6. Select the WPUF Partial Content Restriction Block
Getting into the post check the block sections. You will find a block that is labeled 'WPUF Partial Content Restriction'. Now, select that block. Contrary, you can search for it in the library using the same name.
7. Choose the Part of the Content You Want to Restrict
Remember, you need to select the block on top of the content you want to hide. And if you want to hide any middle part of the content, select the Paragraph(or any other) block.
Otherwise, the content after the Partial Content Restriction block will not be visible.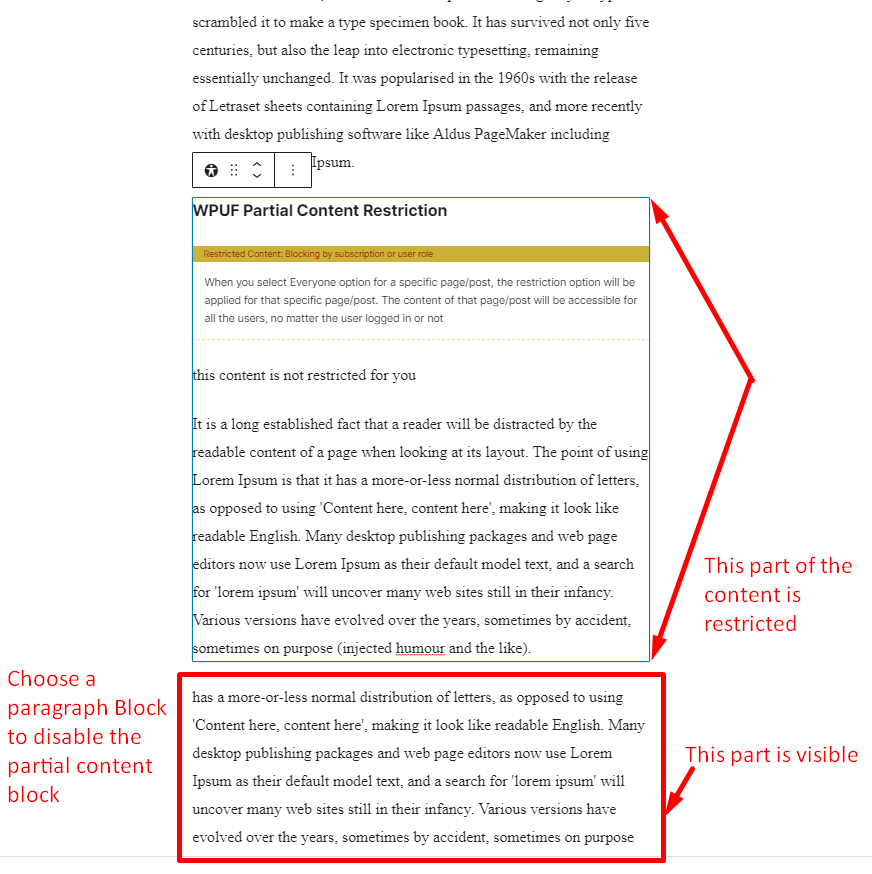 After that, you can decide who can view your content from these 3 categories-
Everyone
Logged in users only
Subscription users only
This way you can earn money from premium subscribers.
Read More: How to Set up Partial Content Restriction in WordPress
Bonus 1: Types of Digital Magazines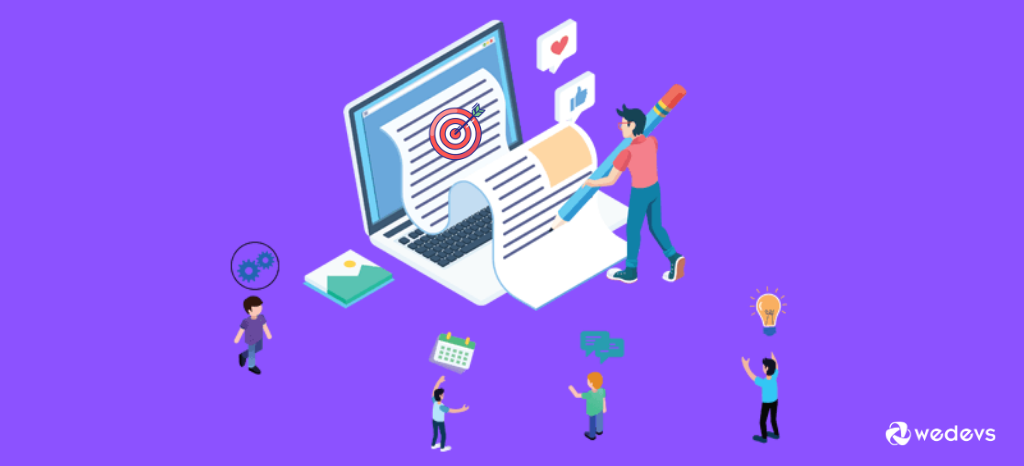 knowing how to start an online magazine now consider the types of digital magazines. So, you can pick the right model based on your readership, budget, business niche, and marketing strategy.
1. HTML5 magazines
HTML5-based magazines. are digital magazines that use the same technology a website usually uses- HTML, CSS, and JavaScript. This type of magazine is designed to work in any modern web browser and also fits accurately both on desktops and mobile devices. In order to ensure an interactive experience, you can add video, animations, pop-ups, and hyperlinks to your digital magazine. These features will improve your readers' experience and increase the retention rate.
Effort: Low
Impact: High
2. Native app magazines
Some publishers started creating their own native apps for their magazines. Readers can simply buy/download these apps from the Apple app store, or the Google Play store for their iOS or Android device. However, these apps are not workable on a traditional desktop or laptop computer. That's why you should integrate a mobile app for your digital magazine when you have already a desktop version and a solid reader base.
Effort: High
Impact: High
3. Magazine subscription apps
The most popular magazine subscription services are- Amazon's Kindle Newsstand, Zinio, Texture, Magzter, Readly, etc. In these apps, users can easily create accounts, do payments, and get access to a rich collection of magazines. You can publish your digital magazine on one or more of these platforms. It would be cheaper than developing your own mobile app. As an additional benefit, you will get a large user base to promote your brand. If you want to earn money through subscriptions, you might use a magazine subscription app.
Effort: High
Impact: Medium
3. PDF magazines
This type of magazine is especially useful if you already have a printed magazine. It helps you make an exact replica of your printed edition. The design of PDF magazines is super easy and cheap. As there are many design software that can easily convert print to PDF.
The challenge is PDFs have fixed-layout. This means it would be difficult to read on mobile devices and generally require zooming in and panning around. Also, readers have to download the magazine first before even viewing it.
Moreover, generating revenue, leads, or subscribers with PDFs is challenging. After downloading you cannot control their distribution or measure their impact. Once downloaded, readers can freely distribute them to their friends. And it becomes almost impossible to collect data on how readers interact with them.
Effort: Low
Impact: Low
4. Flipbooks
As the technology evolved, an extended version of PDF has been introduced, named flippable (or browsable) PDFs. These PDF documents are usually embedded on websites and provide a real-life experience of flipping books just like printed editions.
Evidently, they act as a digital replicas. Alike PDfs, with a flipbook you can easily convert your printed magazine into a digital one. Additionally, it doesn't require to be downloaded before reading. In the early days, digital flipbook was only readable on desktop but in recent years, modern platforms include mobile options in their publishing suites too.
Effort: Medium
Impact: Low
5. Flash magazines
Flash was a technology firstly introduced by Macromedia and later bought by Adobe. In the early 2000s, it was a famous format for many online magazines. Because it supported rich multimedia and gave a real-life experience for turning pages, just like in a printed magazine. But with time the craze of flash has been demolished. Now many major devices like the iPad no longer support it. So, you should also avoid this technology in modern times.
Effort: High
Impact: Low
Read More: How to Earn from Each Post on WordPress!
Bonus 2: Tips on How to Promote Your Digital Magazine
Along with learning how to start an online magazine, you should also plan how to make money from it. The below tips will help you boost your readership numbers with strategic digital magazine marketing.
Arrange a physical/virtual grand event for launching
Sharing free articles/fragments of issues/previews to attract readers
Use your general website marketing strategy to generate organic traffic
Utilize different online channels like paid ads, email marketing, & social marketing
Get feedback from your readers & update your strategies accordingly
Use your print media (if have) to promote your digital version.
Read more: 7 Ways to Increase WordPress Blog Traffic by Updating Your Content!
Are You Ready to Create Your Own Digital Magazine?
Since magazines are niche-based and a great source of entertainment, people would love to read them over decades. There was a time, most people used to buy printed magazines based on their interests, class, or age group. But people's reading habits have changed over the last few years. Now, they prefer to read digitally, leaving behind print media.
Plus digital magazines can be a great way to make money. It will not just only allow you to exploit your creativity but also gives you a chance to generate cash on the side.
Whether you have printed media or not, you can start your online magazine with WordPress and make it your source of income. WP User Frontend helps you integrate different useful features and payment gateways to make the monetization process easier.
If you're planning to start an online magazine but don't know where to start, follow our above guide to kick an easy start.
Do you have any questions about how to start an online magazine? Let us know in the comments section below!